Trusted Autonomous Systems (TAS) is Australia's first Defence Cooperative Research Centre and is uniquely equipped to deliver research into world-leading autonomous and robotic technologies to enable trusted and effective cooperation between humans and machines. TAS aims to improve the competitiveness, productivity, and sustainability of Australian industry through industry-led projects with real translation opportunities to move technology rapidly from universities into industry and ultimately into leading edge capability for the Australian Defence Force.
The TAS vision
Smart, small and many systems, capable of overmatch of large and exquisite crewed platforms and other robotic systems – enabled by dynamic composition of modular sensor, weapon and human command components from national, allied and regional coalition partners. To deliver this new kind of asymmetry, a layered approach is advocated where large crewed and optionally crewed or uncrewed and pre-deployed platforms provide stand-off delivery of "small, many and smart" systems to hold adversaries at risk at long range. This layered approach is illustrated by the below graphic.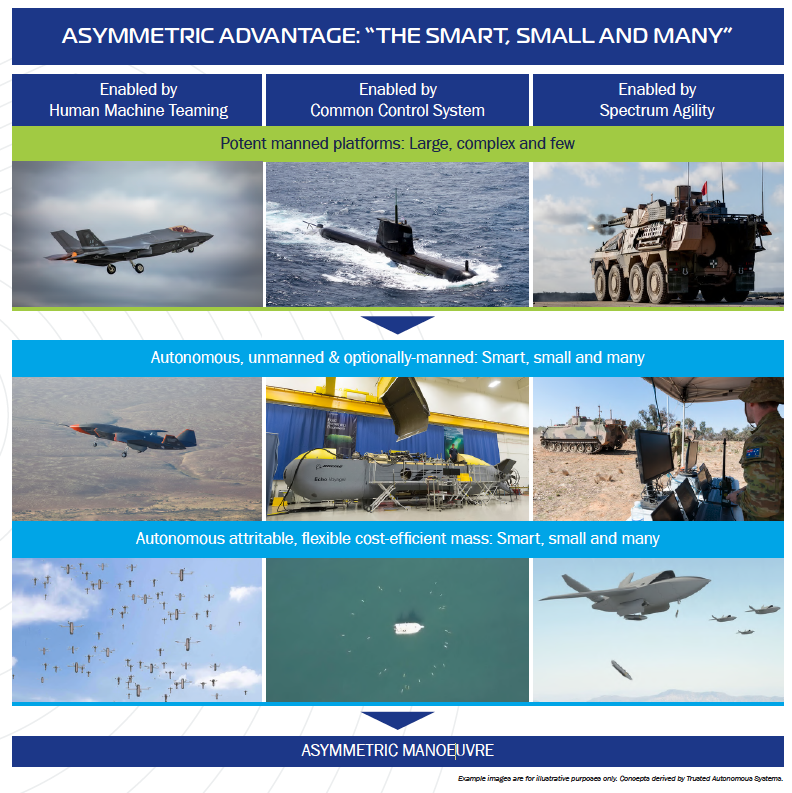 Image Robotic Roadmap for Australia for 2022 (p148), Concepts derived Trusted Autonomous Systems.
"During my time as Chair at Trusted Autonomous Systems I have witnessed the trajectory of game-changing technologies and the 'smart, small & many vision' that augments and accelerates existing Defence capabilities. TAS achievements and leadership in technical, ethical and assurance of autonomous technologies has built significant trust with their stakeholders and strong relationships with leading companies and researchers. The TAS Board and I look forward to the continued positive growth of TAS and success of their participants."
Supporting Australia's defence capability
Trusted Autonomous Systems, together with its participants and the Department of Defence, is developing the capacity of Australia's defence industry to acquire, deploy and sustain the most advanced autonomous and robotic technology through:
delivering world-leading autonomous and robotic Defence technologies
building innovative IP through targeted research and technology programs
assisting Australian industry to develop new, improved and competitive autonomy technologies
evaluating the utility of autonomous systems through capability demonstrations.
Specifically, Trusted Autonomous Systems aims to:
develop highly self-sufficient and survivable systems *
develop highly self-determining and self-aware systems *
develop human-autonomy systems that are human and context aware
increase the speed to reach a deployable state for trusted autonomous systems
increase the scalability and reduce the cost of autonomous systems technology solutions
educate in the ethics and legal aspects of autonomous systems
advocate and form national policy and regulations.
* May be human piloted but never needs to be. If in trouble seeks human assistance. If assistance not forthcoming goes into a safe mode of operation.
Supporting acceptance, regulation and certification of autonomy
In addition to specific industry-led Projects, TAS is undertaking two common-good activities that have broader, non-defence applications, in addition to their defence benefit. These activities are the Ethics & Law of Autonomous Systems and Assurance of Autonomy. Through these activities TAS will:
foster ethical and legal research including value-sensitive design
develop policy pathways for projects and participants
support development of Queensland air, land and marine ranges for trusted trials, test and evaluation
establish independent, world-class certification pathways for global industry.
How we work
Trusted Autonomous Systems fosters collaboration between Australia's defence industry and research organisations and aims to increase small and medium enterprise participation in its collaborative research to improve the research capabilities of the Australian defence industry.
Established under the Next Generation Technologies Fund, with $50 million invested over seven years, and supplemented by other governmental funding, the Defence CRC aims to deliver trustworthy smart-machine technologies for new defence capabilities based on advanced human-machine teaming.
For additional information on the Defence Cooperative Research Centres Program, click here.
Leadership and oversight
TAS is led by a CEO, Professor Jason Scholz (who was awarded the 2020 McNeil Prize) with oversight from a Board of Directors. Science leadership includes the CEO, a Chief Engineer and a Chief Scientist role. In April 2019, then Minister for Defence Industry appointed Dr Michele Allan as Chair of Trusted Autonomous Systems.