As investment in AI robotics and autonomous systems ramps up, it is vital that these systems can be tested and assured to meet society's expectations for their safety, trust and reliability.
However, there are no established standards systems or formal comprehensive codes of practice to accredit unpiloted, unmanned autonomous systems. Operations are generally permissible only under highly conservative constraints, authorised as an exception waiver by CASA, AMSA, DASA etc.
The lack of accreditation standards or codes of practice represents lost opportunity for innovators, for example, according to a US report (Jenkins & Vasigh, 2016) 'every year that integration [of drones] is delayed, the United States loses more than $10 billion in potential economic impact. This translates to loss of $27.6 million per day that UAS are not integrated into the NAS [national air space]'.
The reason why there are so few standards, best practices or test and evaluation protocols for autonomous systems is a chicken-and-egg problem. The impetus to establish and maintain technical and social licence for autonomous systems is driven by end user demand. But end user demand is dependent on trusting technical standards and social licence to operate. Breaking out of this chicken-and-egg problem to advance the autonomous systems pipeline requires collaborative investment—beyond the reach of individual autonomous systems developers and business users.
The development of best practice policy, appropriate standards, and a strong accreditation culture has the potential to enhance innovation and market growth for drones with autonomous abilities.
Queensland is leading the way by investing in Australia's capacity for translating autonomous systems innovation into deployments through the Trusted Autonomous Systems Defence CRC. To this end Directors of Autonomy Accreditation in Air, Land and Maritime domains will develop a national body of knowledge including methods, policies, and practices to support accreditation. Directors will address issues experienced by regulators, insurers, and technology developers by producing consistent (yet flexible) parameters for safe and trusted operations and improved agility to meet fast-changing technical and social licence needs.
It is with great pleasure that the Centre can announce the appointment of Rachel Horne as Director of Autonomy Accreditation – Maritime, effective Monday 17 August.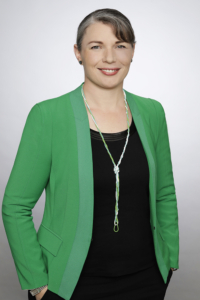 Rachel brings a wealth of experience and expertise in Australia's maritime regulatory framework. She joins us from the Australian Maritime Safety Authority, where she has spent the last eight years in legal, regulatory and policy teams providing advice and managing projects aimed at improving the domestic regulatory framework.
Rachel is a subject matter expert on the domestic regulation of remotely operated and autonomous vessels and is invested in working to mature the assurance and accreditation frameworks available to better facilitate the safe and efficient update of autonomous technologies. The benefits this technology will bring from a safety, environmental, and efficiency perspective make this an important and timely undertaking.  More on Rachel on LinkedIn
The Centre is currently advertising for Directors in Air and Land domains, more information here.
Reference:
Darryl Jenkins & Bijan Vasigh, Commercial Drone Use Will Benefit the US Economy, from Drones Ed by Tamara Thompson, Page 150. Jan 2016. Greenhaven Press.
https://tasdcrc.com.au/wp-content/uploads/2020/05/A2-AoA-1.png
309
324
TAS
https://tasdcrc.com.au/wp-content/uploads/2023/02/Trusted-Autonomous-Systems-1.png
TAS
2020-08-06 03:56:26
2020-11-17 03:25:14
Introducing Rachel Horne, Director of Autonomy Accreditation – Maritime